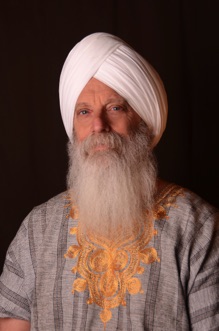 Hari Nam Singh Khalsa is the founder and director of the Khalsa Consciousness Project, which as stated in the mission statement, represents a specific and well-delineated path to individual and collective liberation.
Hari Nam is a renowned spiritual teacher, having given workshops and counseling sessions throughout the world, including the United States, Latin America, Europe, Africa and Asia. He has been interviewed extensively on television, radio and in the press.
Hari Nam had the honor and privilege of being personally trained for almost 30 years by Siri Singh Sahib Yogi Bhajan, the legendary spiritual master who first introduced Kundalini Yoga and Sikh Dharma to the West back in the late 1960s.
Hari Nam is certified as a lead teacher trainer through the auspices of the Kundalini Research Institute. He is also an ordained minister in the Sikh faith and is also a member of Khalsa Council, which is the governing body for Sikh Dharma.
Born and raised in the New York City metropolitan area, Hari Nam has had a unique and varied educational and professional background. He has earned academic degrees at the University of Maryland (B.A., Political Science), St. John's University Law School (J.D., Law), University of San Diego Law School (LL.M., Taxation), College for Financial Planning (C.F.P.) and Lewis and Clark College (M.A., Counseling Psychology).
At one time or other Hari Nam has been an attorney, financial investment advisor, professional photographer and even a New York City cabdriver.