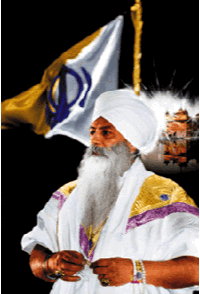 Yogi Bhajan, who passed away in October 2004, was the man responsible for bringing Kundalini Yoga and Sikh Dharma to the West, and is widely thought of as being one one of the great spiritual masters of our time.
By the age of 16, Yogiji was declared a master of Kundalini Yoga in his native land of Punjab, India. In 1968, at the age of 39, he left behind family, friends and a successful career to answer his calling to bring the ancient teachings of Kundalini Yoga and Sikh Dharma to the shores of America and beyond.
Soon thereafter, he founded 3HO: "The Happy, Healthy, Holy Organization, " whose goal was the upliftment of mankind through spirirtual discipline, service to humanity and positive/healthy lifestyle. From that time forward, he tirelessly gave of himself to spread these timeless teachings, so that a legacy of spiritual grandeur could take root and flourish around the globe for all time.
Yogi Bhajan was also known as the Siri Singh Sahib (chief spiritual leader) of Sikh Dharma in the Western Hemisphere and referred to by this title out of respect by his closest students, who for the most part had taken on the Sikh faith themselves. He was a strong advocate for the empowerment of women, a leader in interfaith dialogue and even founded a school in India (Miri Piri Acadamy) for the conscious education of the leaders of tomorrow.
It is our intention to carry on the legacy and vision of the Siri Singh Sahib with integrity and grace.
A very good source of videos of classes given by the Master can be found at The Yogi Bhajan Library of Teachings website.
(More photos of the Siri Singh Sahib, all taken by Hari Nam Singh himself, can be found on the Photos webpage).